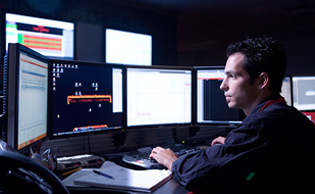 24/7 NOC - Network Operations Center
GRIP I.T. relies on visual technology for monitoring and decision support. Our video wall system, coupled with software tools, allows us to see the big picture quickly. Continuous high availability and reliability is vital to meet our client's expectations and business needs.
GRIP I.T.'s NOC is located in our new SSAE16 compliant data center. Our team of dedicated ITIL certified technicians operate a live 24/7 Help Desk and ticketing system. With this system, they track alerts, answer requests and ensure personalized procedures are followed to keep your business running smoothly.
GRIP I.T has a host of solutions availabe from our NOC - Some of Services Include:
 Monday - Monday. 24 Hours / 365 Days 




 We protect your network.

 
WE PROTECT YOUR NETWORK. 
DISOVER HOW OUR N.O.C
CAN WORK FOR YOUR BUSINESS