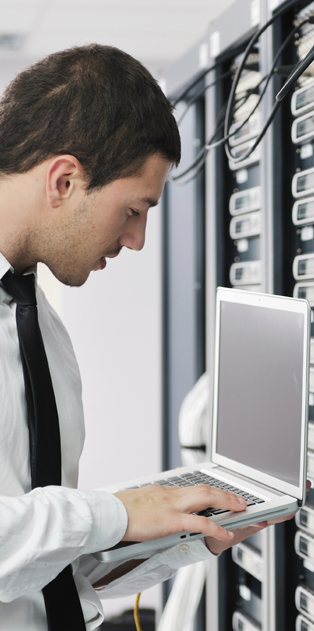 Business Continuity
We know it is vital to have a strong network management system in place. GRIP I.T. offers you a second-to-none process when taking care of your network with our ability to monitor every aspect of your system.
Our monitoring structure ensures that when a device goes down, we are able to drastically reduce the negative impact on your business. We achieve this through quick identification of the affected device, its location, and the other devices that will be interrupted by this loss.
Ultimately, this means that you are made aware of potential problems before they happen, helping to eliminate the chance of a loss of service. GRIP I.T. has the expertise to maintain and manage your network to keep your business humming so you can rest easy knowing your IT is well taken care of.
At GRIP I.T., we go above and beyond to ensure that your network is operating at the highest level of functionality and efficiency. We can map your current system and ensure that you are compliant to ITIL standards.
Our ultimate goal is to create a secure environment, provides asset management tracking and comprehensive, intelligent disaster recovery plans.
Complete Disaster Recovery Solutions For Your Business
Whether environmental or economical, disasters can strike without warning. But, with proper planning, you can prevent serious damage. Recovering from a disaster can be a complex situation, which is why having a recovery solution in place is an absolute necessity.
A well-designed disaster recovery plan enables you to continue your business even when it faces adversity. GRIP I.T. can design and implement a recovery plan that includes the various components required to keep your business up and running customized to your business' needs.
At GRIP I.T. we offer disaster recovery plans that consider how your business runs and your particular needs. Our solutions will provide you confidence that you are prepared if a disaster strikes.
Contact GRIP I.T. for further information on how we can provide a disaster recovery solution for your business.
 Without an emergency business plan 




 you could be out of business.

 
SPEAK WITH US ABOUT YOUR
DISASTER RECOVERY & BUSINESS CONTINUITY PLAN
ENSURE THAT YOUR BUSINESS IS PROTECTED.