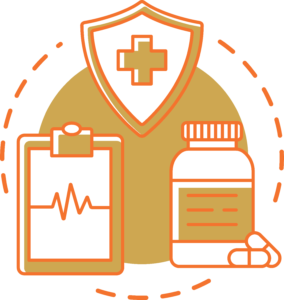 Perfect Set of I.T. Solutions and Complete Support to Drive your Organization Forward
Augmented technology implementation
Protection of sensitive patient data
Faster Response times and 24/7 support
Business continuity plans for your valuable medical data
Redundant systems with proactive network monitoring
Aligning your business with compliance requirements
Protect Patient Data
We understand the importance of protecting patient's data from unauthorized intruders. Our team have helped many healthcare industries safeguard from the latest cybersecurity threats.
Managed Hosting & Support
Find the most valuable services from GRIP I.T. Get reliable hosting and ongoing support for software and other technical tools. We help you sustain and grow your online assets with proper care & maintenance.
Reach for the Clouds
Leverage cloud to bring enterprise-scale computing power to your healthcare facility. We can help you migrate your technology to the cloud, integrate your cloud and on-premise technology for a hybrid solution.
I.T. Consultation & Strategy
We deliver you full-stack I.T. services with advanced I.T. strategy services. Our professionals enhance your operational strengths with complete business analysis, engineering and automation to project management.
Contract Management
Reduce your upfront technology costs and streamline life cycles with warranty management. GRIP I.T. provides service contract and third-party vendor management with client direct invoicing.
Data Center Solutions
Improve capacities and availability of data operations leveraging GRIP I.T.'s SSAE 16 II Tier 3 Data Center. We help you maximize the efficiency of your staff with redundant capabilities and near-zero hours of downtime.
Efficient & Affordable Managed I.T. Services for the Healthcare Industry 
At GRIP I.T., our team understands that data plays a pivotal role in the healthcare industry as it leads you to the insights required to improve outcomes, manage population health and run operations efficiently.
We help you implement the right technology solutions, processes and information that can empower your workplace with actionable data.
GRIP I.T.'s managed services can help with integration, interoperability and data management capabilities and also reduce complexities arising from the proliferation of data. Moreover, we help you plan and implement a successful and comprehensive security strategy which mitigates risks and maintain productivity at its highest. We offer you:
Consulting and Managed Services to gain efficiency
Deployment resources to accelerate technology adoption
Continuing Support to maximize productivity and develop your talent
I.T. servers to reduce operating costs by 20-45%
Implement strong governance and communication
Ensure critical systems availability
Transfer the responsibilities of technology and infrastructure to a trusted I.T. partner. Get to know about our plans and how we can benefit your healthcare facility.