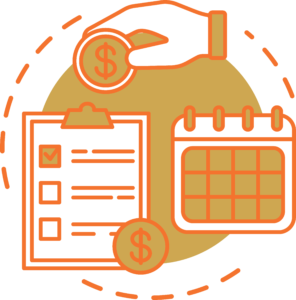 Managed I.T. Services for Accounting Firms that Supports Efficiency
Protect your sensitive client data
Meet deadlines during the peak seasons
Make your business operations more scalable with cloud computing
Implement & manage accounting practice management software
Compliance with government agencies
Technology, Advice and Support to Increase Value to Your Customers
Complete Network Management
Protect your network with strong perimeters of defences. Our professionals provide security assessments and proactive monitoring of infrastructure for continuous high availability and reliability.
Minimize Risks & Repel Cyberattacks
Security against viruses, malware, and phishing attacks, with encryption technology for email & client data. Leverage advanced ransomware protection, business continuity & disaster recovery services.
Public, Private & Hybrid Cloud
Not every organization is the same. Our engineers equip you with custom cloud solutions understanding the business requirements. So, you can easily access client files and financial records securely from anywhere.
Productivity Enhancement Tools
We have in-depth familiarity with accounting applications and tools. Our team ensures you work with the right I.T. software and provide you with maximum support during tax seasons to ensure high productivity.
Comprehensive Managed Services
Employ GRIP I.T.'S proactive I.T. management and maintenance of technology infrastructure from certified specialists at affordable plans. Our professionals can also help you with unique project requirements.
TIER 3 SSAE 16 II Compliant Data Center
Take advantage of highly redundant & secure data center services with a complete suite of hosting solutions. Our data center facility has dual-powered servers & best storage infrastructure for 99.99% uptime.
Partner with GRIP I.T for Pragmatic I.T. Solutions for your Accounting Firm 
Accounting is an evolving profession and accountants are always on the cusp of change. Your firm may have matured from a record-keeping and after-fact dissection to market analysis and predictive advisory roles. At GRIP I.T., we help you grow your client base, expand your services and increase profitability with a state-of-the-art I.T. model and forward-looking technology advice.
Partner with our I.T. services for: 
Experienced and certified I.T. services
All-inclusive and affordable I.T. packages with no surprises
Immediate response support services with 24x7x365 access
Near-zero chances of downtime with data center solutions and proactive approach
Proven track record of delivering A+ ratings from our customer
Talk to us to Know more about the Managed I.T. Plans for your Accounting/Financial Firm.