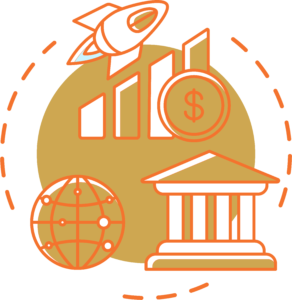 Support for Government Agencies to Reduce I.T. Complexity and Drive Performance 
Help your I.T. team manage their software and hardware components
Host the operations and support all the backend infrastructure
Drive down costs of I.T. operations and make your infrastructure more agile
Provide flexibility to deploy leading-edge technology to fulfill the requirements
Tailored strategic I.T. planning and road mapping for government agencies
Innovative, Flexible and Transparent I.T. Services
Cloud Management
Our team will manage your cloud-based environment for more efficiency and reliability. Harnesses the power of industry-leading like tools like Microsoft Azure to manage your everyday cloud-based workloads.
Disaster Recovery Services
Get an all-in-one disaster recovery and online backup solution. GRIP I.T. offers a fully managed & monitored DRaaS that protects data across multiple off-site secure servers and provides quick recovery in the event of emergency.
 Device Management
Businesses need to manage a wide variety of devices to get things done. Our device management services establish a device policy, controls user access, permissions, and handle employee profiles.
Customized I.T. Solutions
Not all technology solutions are right for your business. Our team offers you custom I.T. solutions for different environment – Windows, VMware, enterprise apps, mobile devices, cloud applications etc.
Incident Response
Our team of experts provides comprehensive practical experience in managing complex security breaches. We promptly respond to the security calls, reduce recovery times, costs and damage to the business.
Advisory Services
Our Software advisory services can help you choose the right applications by providing expert insight. We'll assess your existing inventory, recommend changes, and implement new applications.
Comprehensive Managed I.T. Services for Government Agencies
Government agencies are always looking for better value from I.T. investments. At GRIP I.T., our team of experts ensure continuous optimization of your I.T. systems and daily operations. We have a great deal of experience working with government agencies and our certified professionals perform all the essential everyday tasks and frees up your internal team to work towards more specific solutions.
We'll focus on providing reliable uptime, modernize and secure your I.T. environment, so that the state's most sensitive data, meet the compliance requirements and operate 24/7. Our solutions help the government agencies with –
Security, management and migration of data
Access and identity management across your on-premises
The right public, private and hybrid cloud solutions
Achieve optimal database performance
Enhancement of I.T. efficiency across multiple platforms
Maintenance of data availability and managing endpoints
GRIP I.T. Cybersecurity Framework for Government Agencies
Documentation: First, we identify vulnerabilities and recognize assets, so you can acknowledge every virtual and physical device connected to your network – also find out where privileged credentials are provided.
Security: Different solutions are proposed to mitigate internal security risks and help you achieve compliance by securing, controlling, monitoring, analyzing the privileged access. Our endpoint management solutions ensure network protection throughout.
Detection: Our team will analyze user behaviour to detect any malicious pursuits and examine for any suspicious user activities or compromised accounts. The security team quickly respond to security incidents and analyze events. Our solutions scan for vulnerabilities and are prepared in advance for any cyber-attacks.
Response: There are a variety of tools provided to respond to cyber threats – from security audits, tracking of data access, removing access or changing privileged access to end-to-end encryption of data and patch management. We help you quickly build, test and release software updates without compromising performance and reliability.
Recovery: A full range of data backup and recovery solutions are offered by GRIP I.T. that are extremely fast and flexible. We help you protect your applications and data with easy-to-manage infrastructure solutions. Our team will backup files, recover lost data and reverses transactions without the need to restore an entire database, allowing faster recovery from potentially disastrous situations.
Learn How GRIP I.T. is the leading choice of most Government Agencies. Find out more about our Managed I.T. services and Plans.