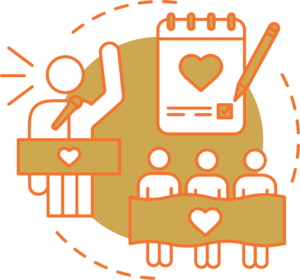 Best in Class I.T. Services for Not for Profit Organizations
Concrete I.T. budgeting with reliable future planning
Managing and mitigating any I.T. risks with complete compliance
Leverage cloud computing to ensure operational efficiency
Asset management and I.T. procurement
Ensuring your donor and organization data is secure
Preparing I.T. policies and procedures
Strategic I.T. Consulting, I.T. Support and Services to Achieve Your Mission
Network Management
We have turnkey solutions that provide insight into the network up-time, traffic and security of the firewalls. All firmware and security services will be patched regularly, so you never experience hours of downtime.
Workstation Management
Our team ensures all computers are up-to-date with the latest security and performance upgrades. We do patch management and leverage dozens of third-party software to keep you your staff productive.
Managed Security
We provide turnkey solutions for cybersecurity. Leading anti-viruses and malware detections are installed for all computers and servers. Our team upgrade the product versions and definitions in our service package.
Outsourced CIO
With GRIP I.T., you can outsource your CIO service to make sure IT aligns with your organizational goals. Our team help you avoid any surprises and allow you to build a technology roadmap that supports your organization.
Disaster Recovery
Every organization rely on its IT, and you must have a plan to continue your regular business, in the event of any disaster. We work with your company to provide disaster recovery and the proper level of business continuity.
Proactive Technical Support
Receive best in class support from GRIP I.T. team with a completely transparent service level agreement. All support requests are recorded and analyzed, so to provide immediate support services and fix recurring issues.
I.T. Solutions for Not for Profit Organizations
No matter your budget, our dedicated team can help your non-profit to bolster fundraising and expand the organization's impact with advanced IT implementation. From providing real-time insights that identify donors to infrastructure solutions that scale with you, our mission is to help you focus on your growth.
At GRIP I.T., we understand for not-profits it is essential to keep your I.T. overhead low. We continuously work to secure your organization with our security assessments, cloud readiness, software asset management to help you cut I.T. waste and save on operational costs.
Dependable I.T. services whenever you need themSource, supply, licensing, and partnerships with multiple vendors
Fully managed to host services for the highest level of performance
Get certified experts to implement and run your choice of cloud platforms
Architect solutions to manage the growth of donor, volunteer and staff records
Cutting-edge encrypted storage solutions for protecting an organization's sensitive data
Restrict access to sensitive data and report on data access
I.T. management solutions tailored to your environment
Let our Managed Services Guide You Toward Successful Digital Transformation. Start the Conversation with us to know more about our plans for Not-Profits.