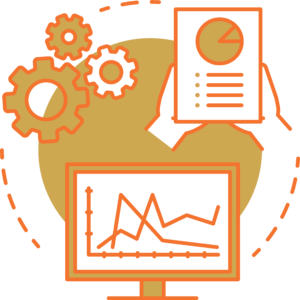 Gain Benefits for your Marketing Firm with Responsive, Reliable and Accountable I.T. Services
GRIP I.T. services can improve customer experience, drive client growth and can help meet loyalty goals.
Protect your valuable data and prevent malicious cyber-attacks
Back-up vital files and information
Reduce overhead expenses and device dependency
Keep your business running smoothly even in the event of a disaster
Plan your technology and understand your changing needs
Strategic Consultation and custom-tailored I.T.
Keep Your Marketing Business Afloat with Agile I.T. Support
IT Infrastructure
Take control of your IT infrastructure. We'll help define the opportunities and strategize for improved processing, collaboration, security, operational efficiency, and lower your IT costs with automation tools.
Cloud Migrations
We aim to transform your organization digitally. If you are still in dilemma whether to move from legacy systems to cloud or not, we offer you the leading cloud productivity suites and collaboration tools.
Drive Adoption
Leverage effective change management solutions from GRIP I.T. and boost your workforce's collaboration and innovation. As you drive adoption of new technology trends in your firm, the more ROI you can gain.
Managed Support Services
Rely on an experienced team of technology professionals and cloud managed services provider to proactively manage, monitor, maintain a secure and agile IT environment with exceptional support.
Enterprise Services
Get the support you need to maintain optimal security and reliability. We help you with accelerating your workflow with cloud computing, staff augmentation, procurement, service desk support & much more.
Helpdesk Support
We have trained and experienced technicians who quickly respond to your needs. Information is recorded, and tickets are thoroughly tracked to provide immediate and long-term solutions.
Expect High-Quality I.T. Services for Marketing/Advertising Firms  
GRIP I.T. is a strategic business and technology consulting firm. Our team is passionate about helping your marketing agency grow.
We make sure to monitor your progress, discuss roadblocks and make decisions that will help you expand for the future. Our client-first approach to technology management allows us to deliver I.T. support that aligns with your business goals. We make sure that:
Available technology helps marketers to achieve their vision
Solutions fit into existing I.T. infrastructure
Threats to data are mitigated, and client sensitive information is protected
High-quality technology solutions are made available at affordable rates
Different technology tools are integrated for a more seamless experience
As Marketing Agency, we know you always want to stay technologically relevant. Check how our Managed I.T. services and plans are just right for you.