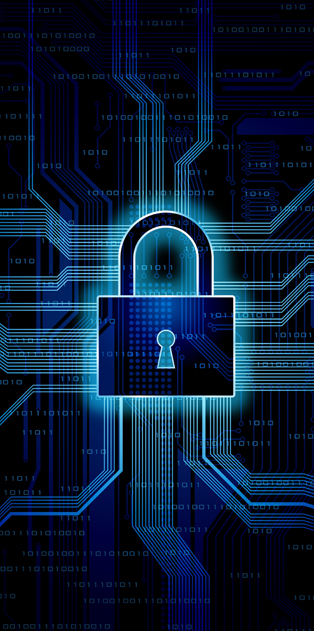 Providing Superior Monitoring and Threat Detection Services
What you can do to Protect Your Business?
At GRIP I.T., we can help you protect your business and reputation.
As a business owner, you know it is vital to protect your business's reputation – especially when your customer's privacy is involved. GRIP I.T. can help you securely protect your IT's sensitive information and your company's trusted reputation.
GRIP I.T. offers:
Security Assessments
Annual IT policy reviews for user access & authentication, encryption of all passwords, and BYOD
Public facing access on separate network /server
Proactive monitoring of infrastructure
Why has there been an increase in security risks?
Complexity of the network/internet – it's difficult to keep up to date
Predominately Windows OS – allows for automated exploitation by cybercrime
MS business applications – popular cybercrime targets
Public facing web-site – combined with poor network configuration
Leaking perimeter – weak or incorrectly configured IT policies
Wireless users – not secured by passwords or encryption
Understaffed IT – not enough time to keep current and proactively monitor systems
Inadequate security training/experience – staff just don't know what to do
Top security Threats to Business
Automated exploitation of vulnerabilities
Malicious emails
Unauthorized or inappropriate web surfing
Data loss on portable devices
Unsecured Wi-Fi spots
Poor network configuration, weak IT policies
Insider attacks
Malicious or deceptive downloads
What can you do to protect Your Business and Reputation?
Security Assessment
Annually reviewing IT policies for user access & authentication
Encrypting all passwords and BYOD
Placing public facing access on separate network /server
Proactively monitoring infrastructure
Why the increase in security risks?
Complexity of the network/internet – it's difficult to keep up to date
Predominately Windows OS – automated exploitation by cybercrime
MS business applications – cybercrime targets
Public facing web-site – poor network configuration
Leaking perimeter – IT policies weak or incorrectly set-up
Wireless users – not secure
Understaffed IT – no time to keep current or to proactively monitor
Inadequate security training/experience
Protect Yourself From Hackers & Intruders!
Information Security Assessments and Penetration Tests are an important part of an effective cyber-security strategy because they provide the opportunity to discover and address potentially critical vulnerabilities throughout the network. We ensure security assessments and tests are conducted periodically and findings addressed promptly.
Vulnerability Assessments & Penetration Testing
Once we understand your current situation and challenges, we may recommend any or all of the following services:
VULNERABILITY ASSESSMENTS
Non-intrusive scans of your public-facing infrastructure and/or internal servers to discover vulnerabilities.
Scans of servers, desktops, and laptops to discover operating system and application software that may require updates
Ethical hacking of your network and facilities using aggressive tactics similar to those that real attackers use
CYBER SECURITY RISK ASSESSMENT
A comprehensive review of your facilities, operations, policies, hardware, and software to discover weaknesses and to prioritize cyber-security efforts.
Partnering with GRIP I.T. to test your network is a proactive effort to protecting your network and business from risks before attacks or security breaches occur

Intelligently contain and remove any vulnerabilities

Avoid the cost of business downtime due to a foreign or internal threat

Meet industry security & compliance requirements and avoid fines

Preserve corporate image and customer assurance
What is the business impact of not being prepared for an unauthorized intrusion?
Security breaches and any related interruptions in the performance of services or applications, can result in direct financial losses, threaten organizations' reputations, erode customer loyalties, attract negative press, and trigger significant fines and penalties.
How can I stay protected – is it possible to safeguard all information, all the time?
Traditionally, organizations have sought to prevent breaches by installing and maintaining layers of defensive security mechanisms, including user access controls, cryptography, IPS, IDS and firewalls.
However, continued adoption of new technologies, including some of these security systems, has made it even harder to find and eliminate all of an organizations' vulnerabilities and protect against many types of potential security incidents.
So what exactly are you going to be doing?
Pen-testing evaluates an organization's ability to protect its networks, applications, endpoints and users from external or internal attempts to circumvent its security controls to gain unauthorized or privileged access to protected assets.
How often should we perform a PEN test?
Penetration testing should be performed on a regular basis to ensure more consistent IT and network security management. A pen-tester will reveal how newly discovered threats or emerging vulnerabilities may potentially be assailed by attackers. In addition to regularly scheduled analysis and assessments required by regulatory mandates, tests should also be run whenever:
New network infrastructure or applications are added
Significant upgrades or modifications are applied to infrastructure or applications
New office locations are established
Security patches are applied
End user policies are modified
Only 24% of Canadian companies use digital IDs and certificates.
Learn More About How
Network Security Is Crucial For Your Business.
Ensure That Your Network Is Protected.