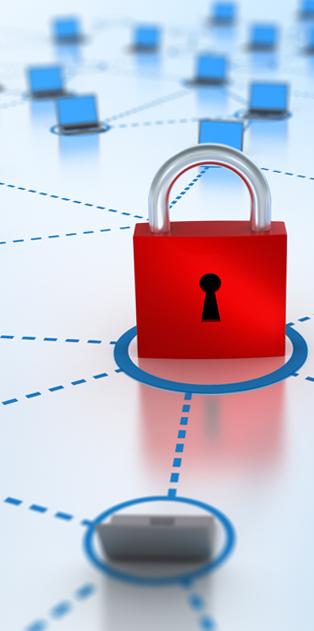 Security Strategy & Support
GRIP I.T. covers your security with 3 approaches:
Internally

– Processes, People, Policies

Externally

– Preventative Measures
Detection & Containment
Internally – How do you handle mobile devices- BYOD (Bring Your Own Device)? How often do you review IT policies? Are there procedures in place when an employee leaves the company? Do you automate and apply all security updates? Are you Payment Credit Card Industry (PCI) compliant? Do you perform annual audits or assessments?
Externally – Preventative Measures – How do you minimize your business risks? Are you web filtering, Email filtering, monitoring traffic and user activities to prevent unauthorized intrusion? Do you have an intrusion detection tool? How secure is your firewall?
Detection & Containment – How do you report on security breaches, data loss etc.? Do you notify your business partners? Do you take measures to contain a security incident?
To protect your business, your reputation and your peace of mind, we can identify and understand areas of risks, provide methods to improve or fix issues, and help you meet regulatory requirements by providing the following security services:
Compliance Requirements Assessment – HIPAA, PCI
Compliance Audit – HIPAA, PCI
Security Assessments
Security Penetration Testing
Provisioning & Implementation including:

Firewalls
Intrusion Protection
Encryption and Authentication
Web & Email Filtering
SIEM – Security Information and Event Management
Data Loss Protection
Managed Security Services
 About 43% of Canadian businesses 




 experienced a data breach in 2014.

 
SECURE YOUR NETWORK
ENSURE THAT YOUR BUSINESS IS PROTECTED.